_____________________________________


WARNING! Any banner ads at the top or bottom are not part of this website. I've found false Bible doctrine advertised. Please use discernment.


________________________________________



This tract, called Sixteen Short Sermons, was published by the American Tract Society in the 1800's. I found it in a book called, "A Pastor's SketchesVol. 2" by Ichabod Spencer published by Solid Ground Christian Books. Spencer was privileged to minister the gospel during a few seasons of revival (from 1828-1854), and having dealt with thousands of people of all ages during his years of ministry he became a wise and careful physician of souls.

The book consists of short authentic dialogues "sketches" of conversations with anxious souls concerning the way of salvation. In one of the "sketches" a woman was brought under the conviction of the Holy Spirit after reading this tract called, "Sixteen Short Sermons" and was led to trust Christ alone for the salvation of her soul. This tract was lent from house to house through the neighbourhood and did good service in that season of a revival of religion.

This tract, "Sixteen Short Sermons," is reproduced here for the benefit of God's people and to lead souls to Christ. It is my prayer that the Lord will bless this tract for the edifying of the body of Christ and to save souls for His glory. This tract is public domain, so feel free to use it as the Lord leads you.

"The fruit of the righteous is a tree of life; and he that winneth souls is wise" (Proverbs 11:30).




Sermon # 1
Matthew 16:26 "For what is a man profited, if he shall gain the whole world, and lose his own soul? or what shall a man give in exchange for his soul?"

Sermon # 2
1 John 3:4 "Sin is the transgression of the law."

Sermon # 3
Romans 3:23 "For all have sinned, and come short of the glory of God."

Sermon # 4
Galatians 3:10 "Cursed is every one that continueth not in all things which are written in the book of the law to do them."

Sermon # 5
Romans 6:23 "For the wages of sin is death."

Sermon # 6
Acts 16:30 "What must I do to be saved?"

Sermon # 7
Mark 1:15 "Repent ye, and believe the Gospel."

Sermon # 8
1 Timothy 1:15 "This is a faithful saying, and worthy of all acceptation, that Christ Jesus came into the world to save sinners; of whom I am chief."

Sermon # 9
John 6:37 "Him that cometh to me I will in no wise cast out."

Sermon # 10
Romans 5:1 "Being justified by faith, we have peace with God through our Lord Jesus Christ."

Sermon # 11
1 Peter 2:7 "Unto you therefore which believe he is precious."

Sermon # 12
Hebrews 12:14 "Follow peace with all men, and holiness, without which no man shall see the Lord."

Sermon # 13
Titus 2:13 "Looking for that blessed hope, and the glorious appearing of the great God and our Saviour Jesus Christ."

Sermon # 14
Luke 11:13 "If ye then, being evil, know how to give good gifts unto your children: how much more shall your heavenly Father give the Holy Spirit to them that ask him?"

Sermon # 15
Hebrews 9:27 "It is appointed unto men once to die, but after this the judgment."

Sermon # 16
Hebrews 2:3 "How shall we escape, if we neglect so great salvation?"



___________________________________________

___________________________________________



Sinners in the Hands of an Angry God
Jonathan Edwards (1703-1758)
Enfield, Connecticut
July 8, 1741
--Their foot shall slide in due time.--
Deuteronomy 32:35


Selected Audio Sermons Online
Open your old King James Bible and hear some good fundamental Bible preaching!


Favorite Links
This page has many links to good Christian material I've found on the web.
2 Timothy 2:15 Study to shew thyself approved unto God, a workman that needeth not to be ashamed, rightly dividing the word of truth.


End Time Apostasy
Exposing false doctrines, false religions, counterfeit Bible versions, ecumenism (all roads lead to Rome), and hereticks




Read a few chapters of "A Pastor's Sketches" here: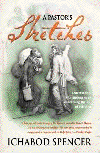 <!-onMouseover Link CSS Script-© Dynamic Drive (www.dynamicdrive.com). For full source code, installation instructions, 100's more DHTML scripts, and Terms Of Use, visit dynamicdrive.com-->